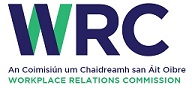 The Workplace Relations Commission (WRC)  is an independent, statutory body which was established on 1st October 2015 under the Workplace Relations Act 2015 (No. 16 of 2015).
It assumes the roles and functions previously carried out by the National Employment Rights Authority (NERA), Equality Tribunal (ET), Labour Relations Commission (LRC), Rights Commissioners Service (RCS), and the first-instance (Complaints and Referrals) functions of the Employment Appeals Tribunal (EAT).
The Workplace Relations Commission (WRC) has responsibility for
promoting the improvement of workplace relations, and maintenance of good workplace relations,
promoting and encouraging compliance with relevant enactments, 
providing guidance in relation to compliance with codes of practice approved under Section 20 of the Workplace Relations Act 2015, 
conducting reviews of, and monitor developments as respects, workplace relations, 
conducting or commissioning research into matters pertaining to workplace relations, 
providing advice, information and the findings of research conducted by the Commission to joint labour committees and joint industrial councils, 
advising and apprising the Minister in relation to the application of, and compliance with, relevant enactments, and 
providing information to members of the public in relation to employment
The Commission's core services include the inspection of employment rights compliance, the provision of information, the processing of employment agency and protection of young persons (employment) licences and the provision of mediation, conciliation, facilitation and advisory services.
The Commission has a board consisting of a chairperson and 8 ordinary members appointed by the Minister for Enterprise, Trade and Employment.
The following is a list of current Board Members of the Workplace Relations Commission
Chair – David Begg
Ms Deirdre O Brien, HR Consultant,
Ms Maeve Mc Elwee, Director of Employer Relations, Ibec,
Mr Liam Berney, Industrial Officer, ICTU,
Ms Ethel Buckley, Deputy General Secretary, SIPTU
Ms Geraldine Hynes, Solicitor, Mediator and Consultant in Dispute Resolution,
Ms Audrey Cahill, Human Resources Director, Keelings Distribution,
Mr Richard Devereux, Intel Corporation,
Dr Michelle O'Sullivan, Senior Lecturer in Industrial Relations, University of Limerick.