The Road Safety Authority (RSA) and Workplace Relations Commission (WRC) have, on 13th July 2016, signed a Memorandum of Understanding (MOU) which is intended to assist and support both bodies in performing their individual functions. It identifies areas of mutual interest and potential overlap based on the regulatory functions of each body.
It also deals with matters such as the respective investigative and inspection roles of each body, and the potential for exchange of information where, during an inspection or investigation by one body, issues or matters relevant to the enforcement role of the other are identified. A copy of the Memorandum of Understanding is available on the link below.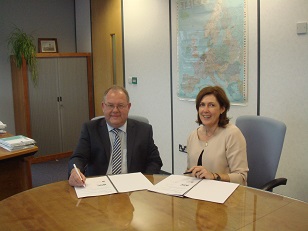 Pictured are Padraig Dooley, Director & Chief Labour Inspector, Compliance & Enforcement Division (Workplace Relations Commission), and Denise Barry, Director of Standards & Enforcement (Road Safety Authority) at the signing of the MOU.