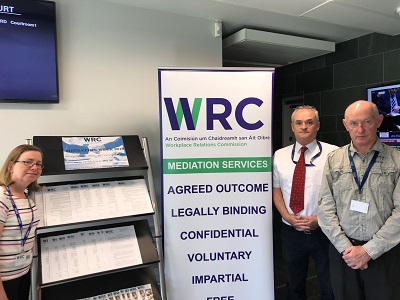 To mark Mediation Awareness Week (6-12 October) the Workplace Relations Commission (WRC) will be making their mediators available to anyone with questions about pre-adjudication mediation on the ground floor of Lansdowne House. 
The WRC provides mediation to a range of service users. The process is voluntary, completely confidential, efficient and effective - providing a win/win situation for all parties involves as they must come to a mutually acceptable agreement. It is also more cost efficient than adjudication as it is a more informal process so parties do not need to have legal representation, if they don't want. 
On Thursday 11 October, the WRC's mediation service will also provide a two-hour interactive workshop on mediation and its impact since the introduction of the Workplace Relations Act 2015 at Lansdowne House. Participants will get an insight into the workings of mediation at the WRC, explore case studies of certain disputes and how they were settled at mediation, and have an opportunity to give feedback and ask questions about their own experiences.
The event will run from 11.00 - 12.30 on Thursday 11 October. A welcome coffee will be provided before the start of the event at 10.30.
For any additional information, please contact Maura O'Donoghue on 01 613 6761 or register for the event on Eventbrite.